Tallapoosa County Alabama Photographs
John W. Foshee & Family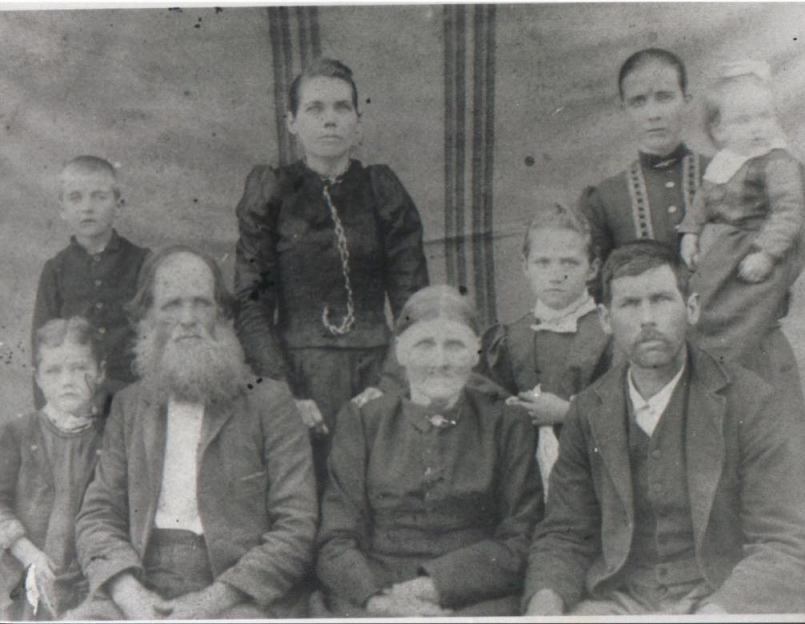 The back row First is James Andrew Foshee 12-15-1882 to 8-19-1964 He is the son of James Riley Foshee.
Next is Mary Suzanne Foshee Campbell, Bennett 7-6-1866 to 12-15-1901( she Married Ira Campbell he died in 1888 then she married James Bennett)
the next is Lanore Bennett 10-3-1886 to-2-1964, next Virginia Bell(Dollie)Taunton Foshee 6-29-1865 to 12-23-1952 Wife of James Riley Foshee.
Front row Ira Bell Cambell no date (she is the dau. of Suzanne and Ira Cambell)
Next is John W. Foshee 1842 to 1920 then his wife Elizabeth Gamble Foshee,1828 to 1920,
And last is James (Jimmy) Riley Foshee 10-2-1864 to 9-15-1953. As for John W. and Elizabeth Foshee the story is that when she died he knelt at the fire place and prayed that he could not live without her and he wanted to die, and he died there and they where buried in the same grave on the same day.
Contributed by Eugene Foshee March 2004 rfoshee@lakemartin.net

************************************************
Copyright. All rights reserved.
http://www.genrecords.net/altallap/ ************************************************