Susan Faust Fuller


Susan Faust, daughter of Samuel Faust of Lee Co. b. Dec 28, 1816 d. Aug 16, 1886 Coffee Co. Al
She married Asa Jefferson Fuller Sr. in either Lee or Sumter County. It is hard to know which county
for both courthouses have lost the marriage records for the time frame when they would have married,
approximately 1846. Asa had first married Susans sister Ellen and when Ellen died leaving a daughter
named Ellen, Susan then married Asa. After marrying they moved on over into Early County, then into
Coffee Co. and Pike Co. Alabama where they settled and raised their children.
Asa Jefferson Fuller Sr. b. July 12, 1814 d. Feb 14, 1863 CSA Coffee Co. AL. was the son of Uriah Fuller
of Lee Co. We do not know where Asa was born other than listed as Georgia, however we do know that Uriah
was listed in Morgan Co. census in 1820 and in Lee County in 1830 and died there about 1832 before the
piece of land he won in a lottery became part of Sumter County when it was formed. Because the records
have been lost Uriah Fuller is my brick wall If anyone can help me to identify where Uriah came from and
his father, please contact me at the email address listed at the bottom of this page.
Fuller Brothers Sons of Susan Faust and Asa Jefferson Fuller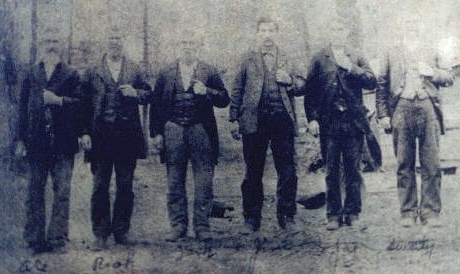 Ace - Riah - Zack - Jim - Joe - Sweety
Because the quality of this photo was so poor and eneven I've tried to enhance the photo for a better view.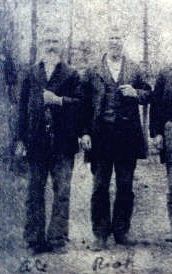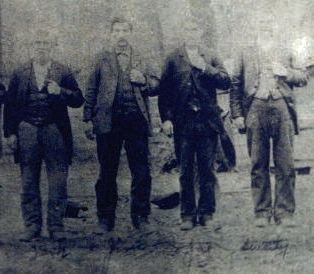 These men are the sons of Asa Jefferson Fuller and Susan Faust


Descendants of Asa Jefferson Fuller ......1 Asa Jefferson Fuller b: July 12, 1814 in Ga d: February 14, 1863 in Pike, Al
........+Ellen Faust b: Bet. 1810 - 1820 d: Abt. 1845 in GA m: Abt. 1843 in GA
.........2 Nancy Ellen Fuller b: January 03, 1845 in GA d: 1889 in Pike Co, AL
.............+William Pierce McWaters b: August 03, 1841 in Newton Co. GA d: April 20, 1915 in Pike Co, AL m: September 09, 1866
........*2nd Wife of Asa Jefferson Fuller:
.......+Susan Faust b: December 28, 1816 in Ga d: August 16, 1886 in Pike, Al m: Abt. 1846 in Sumter? Co.GA
.........2 Asa Jefferson Fuller b: August 27, 1847 in Ga d: August 26, 1910 in Coffee, Al
.............+Tirzah Flowers b: June 1854 in Pike, Al d: December 01, 1941 in Coffee, Al m: February 28, 1871 in Pike, Al
.........2 Uriah Samuel Fuller b: November 11, 1848 in GA d: May 17, 1926 in Tennille, Coffee Co. AL
.............+Minerva Harper Cole b: June 20, 1848 in AL d: November 23, 1922 in Pike Co. AL m: Abt. 1872 in Coffee Co. Al
.........2 Henrietta Fuller b: January 1850 in GA d: in Smith Co. TX?
.............+Bennett Carter b: Abt. 1850 in AL d: in Smith Co. TX? m: Abt. 1873
.........2 Saphronia Frances Fuller b: August 25, 1852 in Ft. Gaines, GA d: June 01, 1931 in Samson, Geneva Co. AL
.............+James Lafayette Lewis b: April 21, 1850 in Pike Co. AL d: June 11, 1918 in Samson, Geneva Co. AL m: November 17, 1872
.........2 Zachariah R. Fuller b: December 03, 1852 in AL d: September 18, 1918 in Kinston, Coffee Co. AL
.............+Dorothy Phillips b: December 15, 1852 in AL d: September 08, 1922 in Coffee Co. Al m: Abt. 1874
.........2 Lucy Elizabeth Fuller b: April 12, 1854 in Coffee Co. Al d: March 04, 1881 in Pike Co. AL
.............+John Wesley Johnson b: December 28, 1857 in AL d: May 30, 1923 in Coffee Co. AL m: 1879 in Coffee Co. Al
.........2 Jasper James Fuller b: October 02, 1856 in Coffee Co. Al d: November 12, 1912 in Coffee Co. Al
.............+Sarah Ann Vickers b: January 18, 1862 in AL d: December 25, 1944 in Coffee Co. AL m: December 20, 1883 in Pike Co. AL
.........2 John Newton Fuller b: October 02, 1856 in Coffee Co. AL
.........2 Peter Marion Westley Fuller b: June 23, 1858 in Coffee Co. AL d: September 11, 1920 in Coffee Co. Al (Known as Sweetie)
.............+Virginia Jernigan b: June 1873 in AL m: 1893 in Coffee Co. AL




More on this family can be seen at http://www.poohbos.com/genealogy/fam/fam00056.html and
http://www.poohbos.com/genealogy/fam/fam00055.html



1827 Land Lottery
================================================================================================================================================
SEC DIST LOT NO. NAME RESIDENCE CAPT. DIST. COUNTY OF DRAW
------------------------------------------------------------------------------------------------------------------------------------------------
1 17 57 Faust, Samuel Laurens County Spivy's Lee County
Uriah Fuller Drew land in the following lottery.


1820 Uriah Fuller pg Morgan Co. Ga. pg 400
3 males under 10, 1 male 10-15, 1 male 45 up; 1 female under 10, 1 female 45 up

1830 Uriah Fuller pg 29 Lee County Ga. (later Sumter)
1 male 15-20, 1 male 40-50; 1 female 10-15, 1 female 15-20, 1 female 60-70 (There is a slight mark on this census which could possibly indicate
1 male 70-80 however the mark is too light to be conclusive.)
1830 Sam'l Foost pg 30 Lee County Ga (later Sumter)
2 males 5-10, 3 males 20-30, 1 male 40-50; 1 female 5-10, 1 female 10-15, 2 females 15-20, 1 female 50-60

1840 Early Co. GA District 510 pg 119
John Emanuel 1 male 15-20, 1 male 20-30, 1 male 50-60; 1 female 10-15, 3 females 15-20, 1 female 50-60
Asa J. Fuller 1 male 20-30; 1 female 60-70
Benjamin F. Fuller 2 males under 5, 1 male 20-30, 1 female 20-30
1840 Walton W. Fuller was in Sumter Co. along with Samuel & William Faust



1850 Early County Georgia
32 541 541 Emanuel Amos 40 M Farmer 300 Ga
33 541 541 Emanuel Ann 24 F Ga
34 541 541 Emanuel Mary 3 F Ga
35 541 541 Emanuel Asey 1 M Ga
36 541 541 Emanuel Susanna 1/12 F Ga
37 542 542 Fuller Asa A. 35 M Farmer 400 Ga
38 542 542 Fuller Susan 33 F Ga
39 542 542 Fuller Asa J. 4 M Ga
40 542 542 Fuller Ellen 6 F Ga
41 542 542 Fuller Uriah 2 M Ga
42 542 542 Fuller Henryetta 6/12 F Ga
1 542 542 Fost Ann 75 F NC
2 543 543 Emanuel John 66 M Farmer 500 Ga
3 543 543 Emanuel Susan 39 F Ga
4 543 543 Emanuel Nancy Ann 20 F Ga
5 543 543 Emanuel Betsey 16 F Ga
6 543 543 Lewis Duncan 22 M Laborer Ga
7 543 543 Dyer George 18 M Laborer Ga

1850 Early County Ga
20 521 521 Fuller Walton 43 M Farmer 500 SC
21 521 521 Fuller Esther 40 F SC
22 521 521 Fuller Jane 17 F SC
23 521 521 Fuller Elizabeth 16 F SC
24 521 521 Fuller William 14 M SC
25 521 521 Fuller Emily 11 F SC
26 521 521 Fuller Rachel 9 F SC
27 521 521 Fuller Andy 7 M SC
28 521 521 Fuller John 5 M SC
29 521 521 Fuller Esther 4 F SC
30 521 521 Fuller Zacariah 2 M SC
1850 Sumter Co. GA page 168
315-William Faust 40 SC
Louisa 33 GA
Henry 7 Ga
William L. 5 Ga
Green A. 2 Ga
James F. 4/12 Ga
Elizabeth Fuller 76 Ga
329 Peter Faust 40 SC
Elinor 40 Ga
Sam'l 15 Ga
Nancy 14 Ga
Daniel 12 GA
Susan 10 GA
William 9 Ga
Elizabeth 7 Ga
Laura 4 Ga
John Wilkinson 12 Ga




1880 Clay County Ga
405b Walton FULLER Self M M W 72 GA Farmer --- ---
405b Esther FULLER Wife M F W 70 GA Keeping House --- ---
405b Emily FULLER Dau S F W 36 GA At Home --- ---
405b Rachael FULLER Dau S F W 34 GA At Home --- ---
405b Esther FULLER Dau S F W 32 GA At Home --- ---

1880 Coffee Co. Al page 330 Victoria
Asy FULLER Self M Male W 30 AL Farmer AL AL
Tassy FULLER Wife M Female W 22 AL Keeping House AL AL
Jinnie FULLER Dau S Female W 10 AL AL AL
John FULLER Son S Male W 8 AL AL AL
Jane FULLER Dau S Female W 6 AL AL AL
July FULLER Dau S Female W 4 AL AL AL
Charly LECOMP Other S Male W 23 AL Laborer AL AL


~~~~~~~~~~~~~~~~~~~~~~~~~~~~~~~~~~~~~~~~~~~~~~~~~~~~~~~~~~~~~~~~~~~~~~~~~~~~~~~~~~~~~~
State of Georgia } This indenture made this the 20th
Lee County } Day of September in the year one thousand eight
hundred and thirty ?? Between Abner Hines of the
State and county aforesaid of the one part and Uriah Fuller of the county and state
aforesaid of the other part. I, the said Abner Hines for and in consideration of the sum of one hundred
dollars to him paid in hand by the said Uriah Fuller, the receipt whereof the said Abner Hines hereby doth
acknowledge himself satisfied content?? and paid the the said Abner Hines hath granted bargained
sold and by these presents doth grant bargain sell and deliver confirm and convey unto the said Uriah
Fuller all that tract or parcel of land being and lying situated in the 17th Dist. of Lee County known by number (188)
one hundred and eighty eight to have and to hold the above sold land and premises and singular the right and claim
priviledges thereof unto the said Uriah Fuller his heirs assigns forever ?? I the said Abner Hines do hereby warrant
and forever defend the above sold land and premises and against the sd Hines his heirs and assigns executors and
administrators and against the claim or claims of any person or persons whatsoever.
In witness whereof I the said Abner Hines have hereunto set my hand and affixed my seal the day and year above written
Walton W. Fuller
Test John Snellgrove Abner Hines


Georgia } Personally appeared before me Walton
Sumter County } W. Fuller who being duly sworn deposeth
and saith that he saw Abner Hines seal and deliver
the within deed for the purposes therein mentioned and that the deponant subscribed the same as a witness
Walton W. Fuller
Sworn to and subscribed
to before me this 28th day of Jan 1832
William Coats J.P.
Registered the above deed this 24th day of December 1847
Eason Smith Clk S.C.
by John Tison Dpty Clk
abstracted by Debra Boswell Crosby from Sumter County records 1999
poohbos@poohbos.com