Newton Edward Pearson and Amanda Florella Wilson, Chambers & Clay County Alabama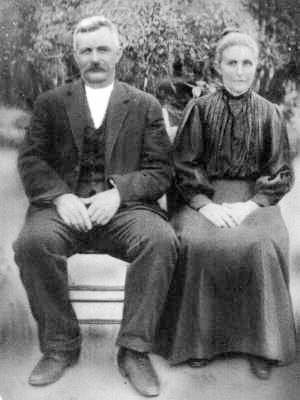 Newton Edward Pearson and Amanda Florella Wilson
1861 - 1934 1856 - 1929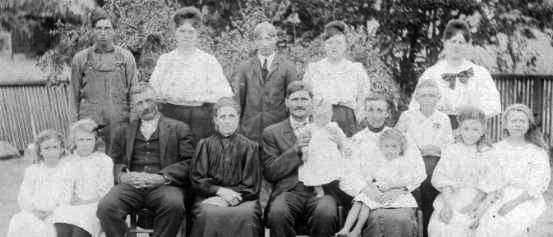 Newton E. Pearson and Amanda F. Wilson & Family
and
Daniel McDaniel and Nancy A. Onnie Wilson & Family
bottom left to right, Mae & Ora Pearson, Newton , Amanda Pearson, Dan McDaniel, Nancy & children, Carrie & Frances? on right.
top left to right Wyatt Buren Pearson, ?, Milton & Avie Pearson Waldrop (Avie was pregnant with my grandfather Hoyt Waldrop when this
photo was taken and he was born Apr 30, 1908, ? on right.
Newton Edward Pearson was the son of Newton & Frances Martin Pearson of Clay County.
Amanda Wilson was the daughter of Martin Van Buren & Lucinda Caroline Worthy Wilson
Descendants of Newton Pearson

1 Newton Pearson b: Abt. 1830 in Ga d: Abt. 1863 in ? died Civil War
.. +Frances Martin b: September 17, 1830 in SC d: January 21, 1911 in Clay, Al m: Abt. 1856 daughter of James Martin buried at Lystra
......... 2 William Ransom Pearson b: May 1857 in Talladega, AL
............. +Eliza Elmira Devaughn b: April 1861 in AL d: August 03, 1935 in Clay, AL m: December 23, 1880 in Clay, AL
.................... 3 William Arthur Pearson b: January 1882
.................... 3 Cora Pearson b: January 1884
.................... 3 Lou Emma Pearson b: August 1886
........................ +Marion J. Hulsey
.................... 3 Dixie E. Pearson b: April 1889
........................ +Unknown Burks
.................... 3 Margaret Ethel Pearson b: May 1892
........................ +Unknown Miller
.................... 3 Newton Calvin Pearson b: April 1897
.................... 3 Ezra Pearson b: June 25, 1901 d: December 1981 in Randolph, Al
......... 2 Melissa Pearson b: March 15, 1860 in Talladega, AL d: March 25, 1928 in Clay, AL
............. +George R. Denham b: December 19, 1855 in GA d: November 09, 1924 in Clay, AL m: July 12, 1882 in Clay, AL
.................... 3 Nuten Abner Denham b: October 03, 1883 in Clay, AL d: September 27, 1894 in Clay, AL
.................... 3 James H. Denham b: August 1885
.................... 3 Robert R. Denham b: July 06, 1887 in Clay, AL d: August 1979 in Ocala, FL
.................... 3 Joseph Franklin Denham b: June 1891
.................... 3 Elizabeth Denham b: July 1893
.................... 3 Fannie M. Denham b: February 1895
.................... 3 Wyatt Edward Denham b: August 17, 1898 in Clay, AL d: January 1976 in WinterHaven, FL
.................... 3 Ida Denham b: 1902
......... 2 Newton Edward Pearson b: July 19, 1861 in Clay, Al d: December 15, 1934 in Chambers, Al buried New Hope West
............. +Amanda Florella Wilson b: September 09, 1856 in Randolph, Al d: November 16, 1929 in Chambers, Al m: October 25, 1883 in Clay, Al buried New Hope West
.................... 3 Wyatt Buren Pearson b: September 04, 1884 in Randolph, Al d: May 21, 1962 in Randolph, Al
........................ +Earlie L. Lambert b: July 30, 1891 in Clay, AL d: November 10, 1953 in Randolph, Al m: November 03, 1910 in Clay, AL
.................... 3 Margaret Emmie Beatrice Pearson b: April 29, 1886 in Randolph, Al d: in FL
........................ +Bud Hanner
.................... 3 Avie Cornelia Pearson b: June 01, 1887 in Randolph, Al d: May 10, 1920 in Randolph, Al buried New Hope West
........................ +Milton Thurman Waldrop b: January 12, 1884 in Randolph, Al d: June 13, 1952 in Orange, Fl m: August 22, 1907 in Randolph, Al
.................... 3 Frances C. Pearson b: May 17, 1892 in Randolph, Al d: May 04, 1984 in Randolph, Al
........................ +Jake David Lashley b: September 05, 1889 in Randolph, Al d: June 01, 1961 in Randolph, Al
.................... 3 Carrie Lavonia Pearson b: May 17, 1892 in Randolph, Al d: September 09, 1964 in Randolph, Al
........................ +George Walter Carson b: December 22, 1881 d: March 03, 1960 in Randolph, Al
.................... 3 Liza Eddie Mae Pearson b: December 31, 1897 in Randolph, Al d: December 11, 1989 in Chambers, AL
.................... 3 Ora Lavonia Pearson b: August 03, 1898 in Randolph, Al d: January 23, 1992 in Chambers, AL


Contributed by Debra Crosby January 2003 poohbos@poohbos.com
More on this line can be seen at http://www.poohbos.com/genealogy/